Chapter1: Fundamentals of Off-Page SEO
Let's kick things off with a brief overview of the fundamentals. Firstly, I'd like to explain what off-page SEO means and why it holds significant value in 2023.
What is Off-Page SEO?
Off-page SEO refers to all the techniques that are used to improve the ranking of a website through external signals that are not directly controlled by the website owner hat including backlinks, social media engagement, brand mentions, and other external factors that indicate the website's popularity, authority, and trustworthiness.
Why Is Off-Page SEO Important?
Backlinks and other external signals continue to form the backbone of Google's algorithm. In fact, according to study on search engine ranking factors, there is a noticeable correlation between the number of backlinks and Google rankings. Pages that rank higher tend to have a greater number of backlinks compared to those that rank lower.
Additionally, Google has affirmed that they still utilize PageRank as a factor in their algorithm. However, it's important to note that links are not the only aspect of off-page SEO. Google has acknowledged that they also rely on other off-site SEO signals to evaluate the credibility of a website.
For instance, Google's Quality Rater Guidelines emphasize a site's off-site reputation when determining its trustworthiness. This includes conducting "Reputation Research" by analyzing online reviews, recommendations from experts, and mentions on authoritative news sites and Wikipedia.
Therefore, while links remain the most critical off-page SEO signal, they are not the only ones. In the rest of this guide, I will delve into links and the other external factors that you need to be aware of.
On Page vs Off-Page SEO
On-page SEO involves everything that you can directly control on your website, including the content, title tags, keyword usage, SEO-optimized URLs, internal links, and image alt text. In another, Off-Page SEO refers to actions that happen away from your website, like links and mentions on other websites.
To optimize a specific page, I used my main keyword in the title tag, URL, and a handful of times in the content. I also included synonyms and LSI keywords to help Google understand the content of the page. Although the page was "perfectly optimized," I knew that my job was far from done if I wanted to rank that page on the first page of Google for that keyword. For this I promoted the post on social media and used email outreach to build links directly to that page.
By combining on-page and off-page SEO, this page now ranks in the top three for that keyword.
With that said, let's get into the strategies that you can use to improve your site's off-page SEO.
Chapter2: Boost Off-Page SEO with Backlinks
When we talk about off-page SEO, backlinks hold immense significance. However, it's important to note that the quality of these links matters more than their quantity.
To ensure that the backlinks you build contribute towards improving your rankings in the search engine results pages (SERPs), it's crucial that they are authority links from relevant websites.
In this chapter, I will be sharing 4 effective ways to build such authoritative links that are currently yielding positive results.
1. Link Building
Link building involves the practice of acquiring links from other websites that lead to pages on your own site. In the world of search engine optimization (SEO), these links are commonly referred to as backlinks.
The greater the number of backlinks a page has from reputable websites, the more credible it appears to Google. This, in turn, can help the page rank higher in search engine results pages. When it comes to link building, there are two important factors to keep in mind.
a. Authority
The term "authority" is used to gauge the quality of a website or webpage. This measurement is primarily based on the number of high-quality backlinks it has earned.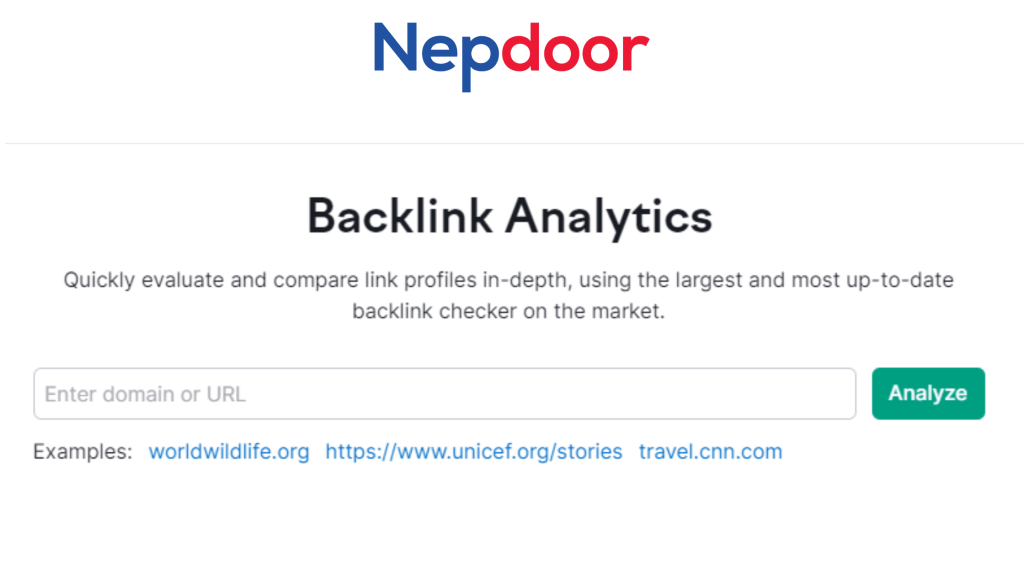 Therefore, it's essential to acquire links from websites with a high level of authority, as they are typically more valuable and can positively impact your search engine rankings.
To determine a website's authority score, you can utilize our Backlink Analytics tool.
Unique Domains
Another essential metric to consider when building links is the number of referring domains that are pointing to your website.
Research conducted demonstrates a strong correlation between referring domains and higher search engine rankings. Therefore, it's crucial to focus on obtaining links from a diverse range of relevant and high-quality domains as part of your link-building strategy. You can easily track the number of unique domains linking to your website using the Backlink Analytics tool.
Content Marketing
Creating valuable content is a crucial aspect of an off-page SEO strategy. When you publish high-quality content, it can help you to earn backlinks, get noticed by the media, and demonstrate your Expertise, Authority, and Trustworthiness (E-A-T).
Moreover, sharing your content on different platforms and channels can help to increase your off-page signals and strengthen your online presence. Therefore, it's important to focus on creating great content and finding ways to promote it effectively to maximize its impact.
Some of the channels include;
Social Media
Although social media does not directly affect your Google rankings, it can greatly help in increasing visibility and attracting more attention. When people share your content on social media platforms, it can lead to more backlinks for that specific piece of content, as well as increased exposure.
Even if your content doesn't get a link, the attention it receives can result in more branded searches and mentions, which can have a positive impact on your off-page SEO efforts. Ultimately, social media is a win-win situation for your online presence and can be a valuable tool for promoting your content and building your brand.
Influencer Marketing
Influencer marketing is an effective strategy where businesses collaborate with popular bloggers and social media creators to promote their products or services which helps you to establish your brand, amplify content, and expand your reach to new audiences.
They have a large and engaged following across various platforms, which makes them ideal partners to showcase your business. You can filter influencers based on criteria such as the number of subscribers, category, price, and more to identify those who are the most suitable for your brand.
Chapter3: Local SEO
Local SEO is a technique that aims to enhance your online presence to attract more local traffic, improve your visibility, and increase brand awareness within your community. It's a distinct SEO discipline that focuses on optimizing your website for local searches.
To improve your local SEO, certain elements are crucial off-page SEO tactics, such as creating a Google Business Profile (previously known as Google My Business) and ensuring accurate NAP (name, address, phone number) citations. These factors help search engines understand your business's location and provide potential customers with relevant information, making it easier for them to find and contact you.
By implementing these local SEO strategies, you can enhance your online presence, increase your visibility within your community, and attract more local traffic to your website which helps to improve your business's overall performance and support your growth objectives.
Google Business Profile
A Google Business Profile is an essential tool that enables you to control how your business appears in Google's search results. As this occurs outside of your website, optimizing your Google Business Profile is a vital off-page SEO strategy.
Having an optimized Google Business Profile is a critical factor for improving your local SEO rankings. By optimizing your profile, you can increase your website's visibility in high-value positions on Google's search results pages, such as the map pack.
For instance, if someone searches for "stationary near me," an optimized Google Business Profile can help your business to appear prominently in the map pack results. This can drive more traffic to your website and increase your brand awareness in your local community. Therefore, it's crucial to focus on optimizing your Google Business Profile as part of your overall SEO strategy.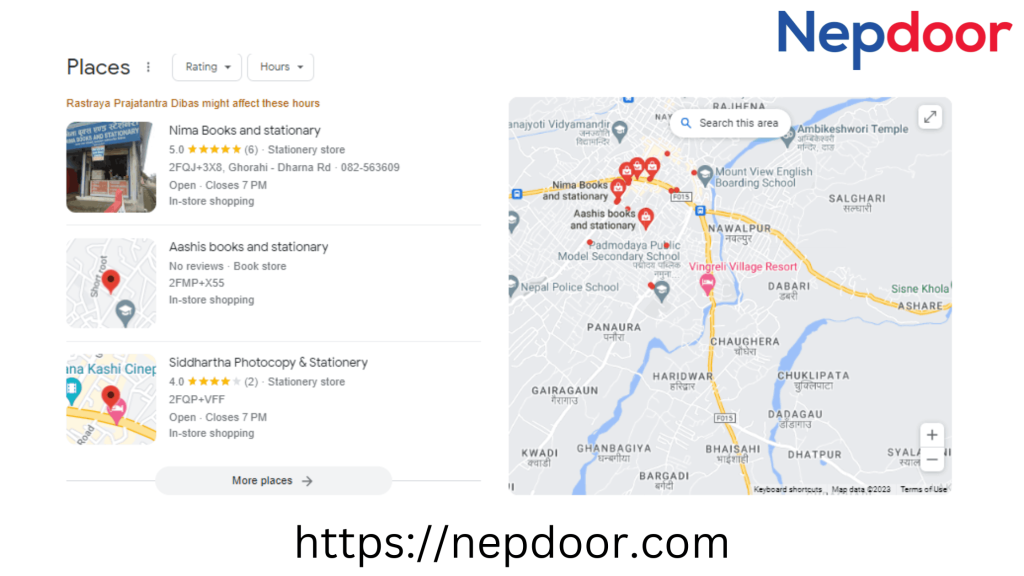 Here are some useful tips for managing your Google Business Profile:
Make sure to provide accurate and up-to-date contact information so that customers can easily reach you.
Respond to all customer reviews, both positive and negative, in a timely and respectful manner. This shows that you value their feedback and are committed to providing excellent customer service.
Share posts on a regular basis to keep your profile active and engaging. This can include photos and videos that showcase your products or services and give customers a glimpse of what to expect when they visit your business.
NAP Citations
NAP citations refer to online listings that mention important information about your business, such as its name, address, and phone number. These listings can be found on various platforms, including business directories, social media profiles, and review sites.
It's essential to maintain consistent NAP citations because search engines like Google rely on them to verify the accuracy of your business information. Inconsistencies in your citations can make your business appear unreliable, so it's crucial to take the time to ensure that all of your NAP references match.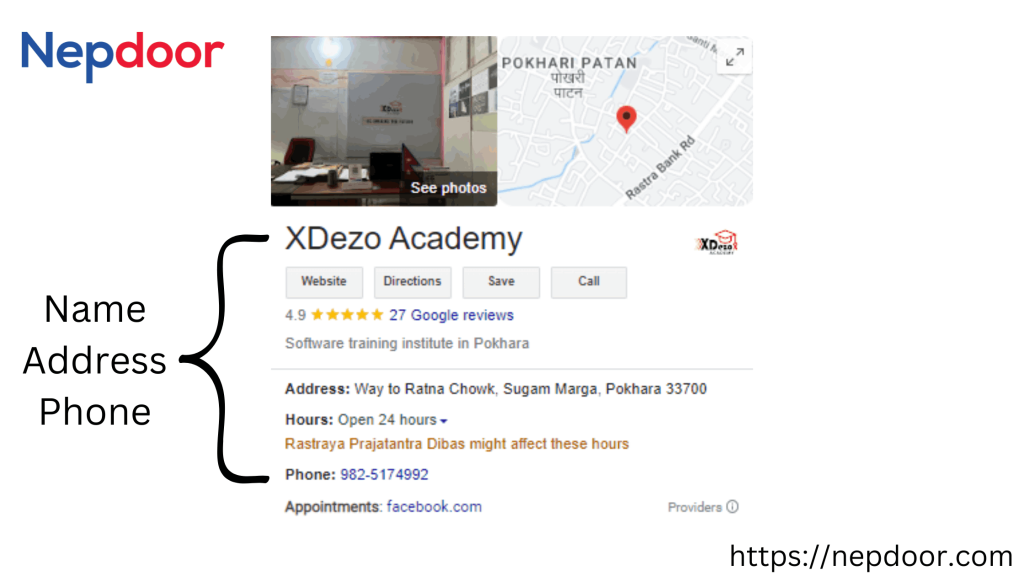 One convenient way to manage your NAP citations is by using a tool like Listing Management tool. To get started, simply enter your business name and click "Search." This tool helps you keep your listings up to date and ensures that all of your citations are consistent across the web.
Here are a few tips to keep in mind when managing your NAP citations:
Maintain consistent citations across all platforms.
Submit your business information to niche and local websites.
Conduct monthly NAP audits to ensure that your information is accurate and up to date.
Chapter4: Review
Reviews can be a powerful tool for building trust and credibility for your business. They are especially crucial in the online space, where potential customers may not have the opportunity to visit your business in person.
Reviews are such an important factor in Google's evaluation of your website's E-A-T (expertise, authority, and trustworthiness) that they can significantly impact your local SEO success.
Google recommends responding to all reviews, both positive and negative, as it shows that you care about your customers and their opinions. By acknowledging their feedback, you can demonstrate that you value their business and are committed to providing excellent customer service.
So, make sure to take the time to respond to all of your reviews, and use them as an opportunity to engage with your customers and build trust in your brand.
Chapter5: Events
Hosting events can be a valuable addition to your off-page SEO strategy. Not only do they provide an opportunity to engage with your audience, but they can also help generate buzz around your business, leading to increased social engagement and links.
Hosting events can be an excellent way to earn brand mentions, especially during the promotion phase or if attendees write summary articles afterward. Additionally, your event landing page can attract links from speakers who want to promote the event or influencers who see value in sharing it with their audience.
Do You Want More Traffic To Your Websites? Click Here and get 15 min Free Consultation.
Although hosting events may require more effort than other off-page SEO strategies, the buzz and excitement generated from a successful event can be difficult to replicate through other means. Events also offer a chance to earn fantastic PR coverage and build relationships with your audience.
So if you have the resources to host an event, it could be a worthwhile investment for your business's off-page SEO efforts. Just make sure to plan and execute the event thoughtfully, with the goal of creating a positive and engaging experience for your attendees.
Conclusion
I hope you found my guide on off-page SEO informative and enjoyable to read. Now, I would love to hear your thoughts on it.
Which tip from the guide caught your attention the most? Are you thinking of giving press releases a try or perhaps you are interested in being interviewed on podcasts?
I'd be thrilled to know your plans and hear your feedback, so please don't hesitate to leave a comment below. Thank you!