Online Diploma in Digital Marketing Course
Are you looking for Global Standard "Digital Marketing & SEO Training" in Nepal?
Learn Nepal's #1 Best Digital Marketing Course taught by top-notch experts and master the most in-demand digital marketing skills, tools, and techniques.
100% Job Assistance | Live Online Classes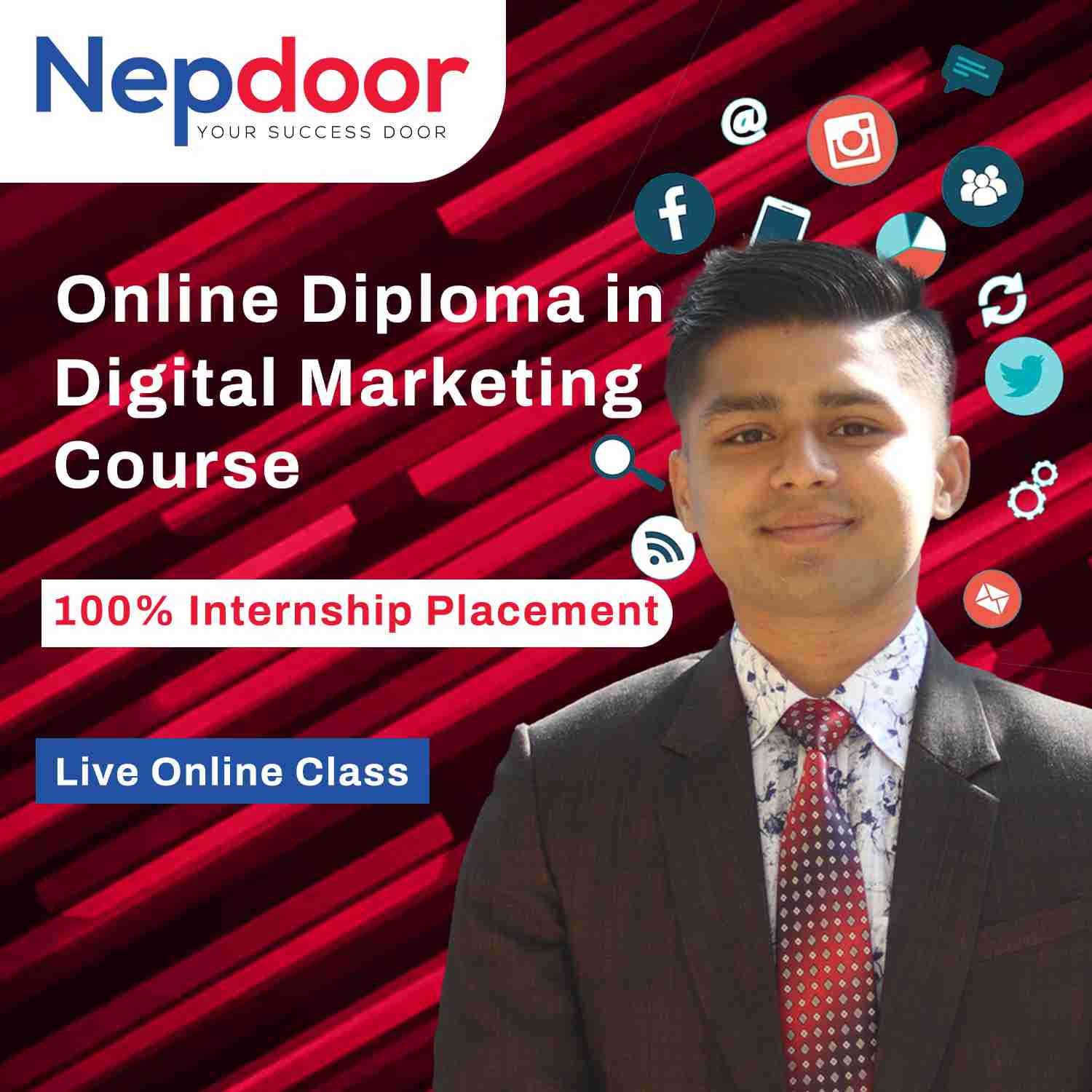 Send us your Enquiry
Online Diploma in Digital Marketing Course Syllabus
Part 1
Chapter 1: Introduction
Chapter 2: Social Media Marketing Planning & Strategy
Chapter 3: Building a Content Strategy for Social Media
Chapter 4: Social Media Platforms (Facebook, Instagram, Twitter, Pinterest, LinkedIn, YouTube)
Chapter 5: Google Ads and Google My Business
Chapter 6: Research & Project Work
Part 2
Chapter 7: Digital Marketing Foundations
Chapter 8: Business Research, Digital Strategy and Planning
(Business Research, Steps of Research, Target Personas, Competitor's Analysis, SWOT Analysis, PEST Analysis, Competitor's Analysis Tools, Preparing Digital Strategy & Planning, Industry & Market Research)
Chapter 9: Mobile Marketing
Chapter 10: Email Marketing & SMS
Chapter 11: Web and Data Analytics and Techniques
Chapter 12: Content Writing & Optimization
Chapter 13: Blogging with WordPress
Chapter 14: Business Presentation
Chapter 15: Research & Project Work
Part 3
Chapter 16: Search Engine Optimization Foundations
(SEO Intro, Working Mechanism, Types, Keyword Research, On Page SEO, Off Page SEO, Design & Architecture, Local SEO, Algorithms, SEO Tools and many more.)
Chapter 17: Advanced Search Engine Optimization
Chapter 18: Advanced Content Marketing
(Vision of Content Marketing, Business Case for Content Marketing, Targeting Key Influencers, Measuring Content Effectiveness, Measuring Return on Marketing Investment and many more.)
Chapter 19: Advanced Web Analytics
(Digital Analytics, Building Blocks, Business Perspective, Methodology, Data Analysis Fundamentals, Enabling Capabilities, Managing Analytics, Audience, Acquisition, Behavior, Conversions and Onboarding, Retention and Expansion, Advocacy, Privacy & Ethics and many more.)
Chapter 20: Research & Project Work
Part 4
Chapter 21: Digital Marketing Project Work
Chapter 22: SEO Project Work
Chapter 23: Case Studies Work
Chapter 24: Presentation Work
Learning Process & Methodology
Attend Live Online Class (5 Days a Week).
Get daily classes Recorded Video.
Get 24/7 Support from Mentors.
Fees & Financing
The fee for this course is NRs. 60,000.
Currently, We are running no any Discount in this course.
We offer scholarships to deserving students. Scholarships are merit-based as well as need-based. Click on Scholarships to know more about scholarships.
Key Highlights of the Course
Higher Live Interaction with Live Online Classes by Industry Experts: The course provides live online classes with industry experts to ensure a higher level of interaction and engagement.
360-Degree Understanding of Digital Marketing & SEO: The course offers a comprehensive understanding of digital marketing and SEO covering all the aspects of the field.
20+ Real-life Industry-based Projects: The course provides hands-on experience through real-life industry-based projects to enhance practical skills.
Gain Detailed Insights on Advanced Analytics: The course covers advanced analytics, providing in-depth insights into data analytics to help in making informed decisions.
100% Money Back Guarantee (T&C Applies): The course offers a money-back guarantee, subject to terms and conditions.
1 Hour Class Time, 2 Months Regular Class: The course is designed to be completed within two months, with 1 hours of class time each session.
3 Months Internship: The course includes a three-month internship, providing practical work experience to enhance skills.
100% Job Placement & Business Opportunity: The course guarantees job placement or a business opportunity upon completion.
Most In-demand Skills Mixed in One Course: The course provides the most in-demand skills, including digital marketing and SEO, in one comprehensive course.
Get Course Completion & Internship Certification: Upon completion of the course and internship, the students receive a course completion and internship certification.
Regular Online Workshop, Seminar & Bootcamp: The course offers regular online workshops, seminars, and boot camps to enhance learning and development.
Our Super Mentor